Heritage, visit, Park and garden in Corrèze
Add to my travel notebook
Register your touristic spot in Corrèze it's free (in French)
See accommodation nearby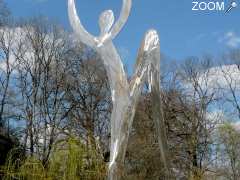 TVORG-10530
Update informations
Low season of 0€ to 3€

Average season of 0€ to 3€

High season of 0€ to 3€

School holidays of 0€ to 3€




Disponibilités
Sylvie et Michel Kirsch
Le Domaine du Lac
19250 Meymac (Corrèze)
Michel and Sylvie are happy to welcome you in their garden of the Domaine du Lac visitors may stroll in a landscaped garden rhythmed by the presence of multiple sculptures in granite and wood.

Screens of vegetation give way to surprises as the park gradually to comes to light through a rich palette of plants chosen for their affinities with the rigorous climate of low mountain range and the acidity of the soil.

As seasons go by plant collections stand out: maple, viburnum, cornus, heather, roses, hydrangeas …

An impressive Limousine barn welcomes visitors to an exhibition of Sylvie and Michel's paintings and sculptures.

Open from May to July, Saturdays and Sundays from 14h - 18h
From July to September everyday from 14h - 18h.

Entry fee : 3€ per person and free for under 18 yrs.
Group visits please contact us.
Register your touristic spot in Corrèze it's free (in French)