Accommodation, Bed and Breakfast in Corrèze
Add to my travel notebook
Register your touristic spot in Corrèze it's free (in French)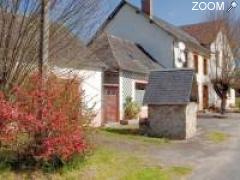 TVORG-2918
Update informations







Disponibilités
Nathalie et André
Le Bois de Bourzat
19410 Orgnac-sur-Vézère (Corrèze)
Phone : 05 55 73 46 29
- Mobile phone : 06 79 01 96 81

http://www.lebourzat.com
Located in a splendid natural setting in Corrèze, the rooms at "Le  Bourzat" will charm and impress you. The vintage Bed and Breakfast is surrounded by fields that lead to the river Vezere.
 
We have five recently renovated rooms for weekend or holiday travelers, all at very affordable tariffs. Each room is tastefully decorated and the beds are fitted with clean, fresh linens. You'll enjoy a private entry so you can come and go at your leisure. In the reception area, guests can enjoy television, Internet access and informative tourism booklets.

The Bed and Breakfast also offers access to stimulating games including ping-pong, bowls and tennis. Fishing, horse-riding and canoe/kayak adventures can be done locally. Travelers can visit many regional points of interest: the cave at Lascaux, the pit at Padirac, the famed stud farms of Pompadour, the Chartreuse of Glandier and many other area attractions.


We offer a friendly, family atmosphere and authentic traditional cooking prepared with local ingredients. Kids can enjoy the company of our domestic
animals and parents can relax in the fresh air. We are happy to serve you
and we look forward to seeing you here at Le Bourzat.
Register your touristic spot in Corrèze it's free (in French)