Accommodation, Hotels restaurants in Corrèze
Add to my travel notebook
Register your touristic spot in Corrèze it's free (in French)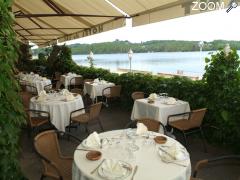 TVORG-5670
Update informations









Disponibilités
M. John WATSON
La Plage
19160 Neuvic (Corrèze)
Phone : 05 55 95 81 43
- Fax : 05 55 95 05 15

http://hotel-du-lac.neuvic.com
Opposite the lake and far away from the hustle and bustle, set in a haven of greenery, ideal for rest and relaxation, the Hotel du Lac is ideal for a one night or a more lengthy stay - one of the finest sites n the Correze region.
Enjoy our regional dishes and family cooking outside on the terrace or inside, in the warm and friendly dining-room.
The hotel offers quiet and comfortable rooms. All the rooms have a view across the lake from their balconies.
Register your touristic spot in Corrèze it's free (in French)