Accommodation, Self catering in Corrèze
Add to my travel notebook
Register your touristic spot in Corrèze it's free (in French)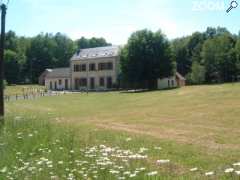 TVORG-11696
Update informations
low Season 850 €

Mid season 850 €

high Season 850 €

holiday 850 €








Disponibilités
COMPAIN Florence
Ancienne école du Vent Haut, 19160 NEUVIC
19160 Neuvic (Corrèze)
Phone : 05 55 72 27 40
- Fax : 05 55 95 96 50

http://www.grands-gites-correze.com/

https://www.facebook.com/giteventhaut
Located in an old school totally refurbished in 2005, this cottage enjoys a great environment for family outing, games, rest, etc. ... for both adults and children.
With a capacity of 70 seats, it is partly accessible for disabled guests (up to 10 wheelchairs).
It is perfectly designed for hosting groups at night, weekend, week or more. Our large house can be rented free management, half board or full board. All options are possible! So we can offer gourmet meals on demand and at your convenience as a simple picnic, just ask us.
This great building consists of:

- 68 single beds and a double bed in no fewer than 24 rooms,

- 16 wc
- 2 large dining rooms with a glass that can fully enjoy the surrounding nature,
- 2 large living rooms which is also a window, a TV with DVD player, a stereo ...
- 1 large professional kitchen equipped with large cold room, large oven, microwave, gas stove, dishwasher ....

Similarly, our leadership team can offer activities such as archery, a farm visit, the discovery of fungi, fauna and flora, local ...
Everything (almost ...) is possible, just contact us and explain your needs, we'll do the rest!
More than 2.5 ha of land are waiting for you! The vast grassland semi-wooded includes a football pitch / volleyball court that will allow you to unwind. The pond and its many inhabitants will amaze you at any time. The forest is itself very popular with fans of fungi (including mushrooms and chanterelles), play hide and seek ...
Register your touristic spot in Corrèze it's free (in French)