Accommodation, Hotels restaurants in Corrèze
Add to my travel notebook
Register your touristic spot in Corrèze it's free (in French)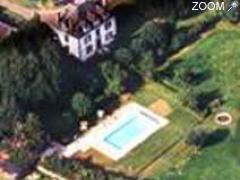 TVORG-1323
Update informations
Low season of 46€ to 62€

High season of 52€ to 68€

Restaurant Menu of 23 to 45 €

**Tourisme-Petit déjeuné**
Disponibilités
Hostellerie de La Bruyère
La Bruyère
15200 Chalvignac (Cantal)
Phone : 04 71 68 29 65.
- Fax : 04 71 68 02 05.

http://www.hostelleriedelabruyere.com
The hostellerie is located between the Dordogne and the Moutains of Cantal, at an altitude of 700 m, 15 mn from Salers and within easy reach of well-known touristic sites.
Hostellerie de La Bruyère is a building with a lot of characteru, entirely renovated in 2004 and which lies in the middle of a large wooded park with its private swimming pool.
The hotel has 11 bright bedrooms, with bathroom, wc, tv, telephone (new bedding) and one room specially designed for the handicapped.
The restaurant, with its beautiful fireplace, can seat 250 people (ideal for celebration dinner, wedding, seminars). It offers gourmet and traditional cooking.
Bar, reading room, conference room, private car park, children's playground.
Register your touristic spot in Corrèze it's free (in French)