Accommodation, Hotels restaurants in Corrèze
Add to my travel notebook
Register your touristic spot in Corrèze it's free (in French)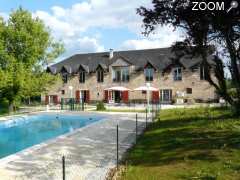 TVORG-6184
Update informations
Low season of 52€ to 95€

Average season of 55€ to 99€

High season of 59€ to 106€

Restaurant Menu of 12 to 36 €

**Tourisme-Petit déjeuné de x a y**
Disponibilités
EUGENE JEROME ET ETHEL
Lieu dit Cartassac. Route départementale 720, Turenne-gare
46600 Sarrazac (Lot)
Phone : 05 65 32 64 10
- Fax : 05 65 37 14 72

http://www.aubergecartassac.com
The Auberge of Cartassac is located at the heart of a luxuriant countryside, at the crossroads of Quercy, Correze and Périgord, a region rich in history and traditions. It is an authentic traditional family-owned house of great charm.

We invite you to come and enjoy the delights of our house, relaxing at the swimming-pool in summer or lounging in front of a cosy chimney fire in winter. You'll enjoy the high quality accommodation that our tourist friends and business travellers have already appreciated.

Entirely renovated in 2007, the bedrooms, private lounges and the restaurant offer all the conveniences of modern comfort in a magnificent, picturesque and well-preserved property.
Register your touristic spot in Corrèze it's free (in French)