Accommodation, Self catering in Corrèze
Add to my travel notebook
Register your touristic spot in Corrèze it's free (in French)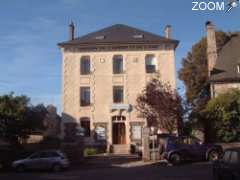 TVORG-11695
Update informations
Low season of 17€ to 500€

Average season of 17€ to 500€

High season of 17€ to 500€

School holidays of 17€ to 500€





Disponibilités
Mlle GALLET AGNES
Maison de l'arbre et de l'eau, rue de l'église
19160 Neuvic (Corrèze)
Phone : 05 55 95 93 79
- Fax : 05 55 95 96 50

http://www.cpiecorreze.com/sitecpie/index.php/Grand-gite-de-Neuvic/
Great cottage for 30 people located in the town of NEUVIC in Haute-Corrèze, this large cottage you will enjoy the shops and amenities of a village of 1800 inhabitants while being quiet and yet so close to the activities proposed in the sector, particularly the Lake Triouzoune.

This building with a capacity of 30 seats is perfectly designed for hosting groups at night, weekend, week or more. Our large house can be rented free management, half board or full board. All options are possible! So we can offer gourmet meals on demand and at your convenience as a simple picnic, just ask us. Can rent one or more rooms.

This great building consists of:

- 30 beds in no fewer than 18 rooms with WiFi internet Ecce on tois story
- 6 bathrooms,
- 6 wc
- 1 dining hall,
- 2 living rooms equipped with TV with DVD player, a stereo ...
- 1 large professional kitchen equipped with cold room, large oven, microwave, gas stove, dishwasher ....

We can rent a sound system or you give one of our video projector to enliven your evenings.

Similarly, our leadership team can offer activities such as archery, a farm visit, the discovery of fungi, fauna and flora, local ...

Everything (almost ...) is possible, just contact us and explain your needs, we'll do the rest!
Register your touristic spot in Corrèze it's free (in French)