Accommodation, Self catering in Corrèze
Add to my travel notebook
Register your touristic spot in Corrèze it's free (in French)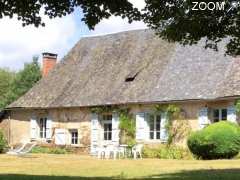 TVORG-4701
Update informations




Disponibilités
Pierre-Gilles de Lupel
Les Chaises Basses
19410 Orgnac-sur-Vézère (Corrèze)

https://www.gite-en-correze.com/

https://www.facebook.com/Gite.en.Correze/?ref=bookmarks
In remote countryside, a 18th century former farmhouse, self catering-accommodation (115 Sq.mt) for 6 adults (3 bedrooms), located at 10 km of Pompadour, in the country of the Vézère valley, at the threshold of Perigord and Quercy regions.
Set in an absolute peaceful location, with a vast garden (2000 Sq.mt) this farmhouse, sun exposed, is surrounded by an undulating landscape. All rooms are at garden level.
Large living-room apparent stones walled with open fireplace. Full equipment ..

Register your touristic spot in Corrèze it's free (in French)