Accommodation, Self catering in Corrèze
Add to my travel notebook
Register your touristic spot in Corrèze it's free (in French)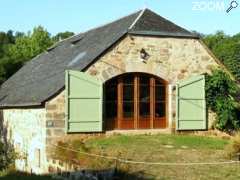 TVORG-10486
Update informations
Low season of 185€ to 390€

Average season of 225€ to 415€

High season of 235€ to 495€

School holidays of 235€ to 495€

Weekend of 185 to 285 €

**Tourisme-Taxe de séjour**

**Tourisme-Taxe de séjour**




Disponibilités
Mme Michèle Dulmet
Le Maurel
19500 Jugeals-Nazareth (Corrèze)
Phone : 05 55 84 33 80
- Mobile phone : 06 89 60 45 40

http://www.gitedumaurel.com
Rural housing : on horseback, by bike or else

*Holiday in a recently restored barn, redone in traditional style using local materials (hemp, limestone, whitewash). An ideal, peaceful setting to rest or horseback ride from base campsite.

*Two bedrooms are available with private bathroom and toilet ; one full-size bed or two twin-size beds.

*Spacious living-room adjacent to open-kitchen, all complete in standard electrical installation, sofa-bed and large farm-size dining table (stove-top range, TV plug-in, wifi).

*Laundry room with washing machine and combo-freezer. In addition one futon-sofa in hallway, allowing you to accomodate three guests for one or two nights.

*For those who ride : on site tether, horse boxes (by request), three hectares of meadow, and lovely trails to adventure on in surrounding countryside.

*You may also pitch your own tent on the premises (access to a separate, private bathroom).

*The choice is yours! Whichever activity suits you : sports, cultural visits, or just relaxation in a peaceful environement.

Register your touristic spot in Corrèze it's free (in French)