Accommodation, Cabanes, Roulot, Yurt in Corrèze
Register your touristic spot in Corrèze it's free (in French)
Eric Baluteau
Le Carlat
19500 Chauffour-sur-Vell (Corrèze)
Here is the ideal place to navigate along the Valley of the Dordogne. Discover Rocamadour and the Valley of L'ouysse, Collonges la Rouge, the city of Earth and fire, the cited picturesque of Martel, ...

Miramon Alexandre
LA VAYSSE 19300 GRANDSAIGNE
19300 Grandsaigne (Corrèze)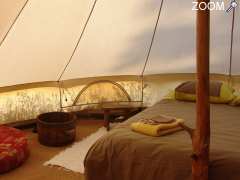 Solleliet
le Theil
19380 Saint-Sylvain (Corrèze)

deyzac Laurent
la Maleyrie 19270 Sadroc
19270 Sadroc (Corrèze)
Phone : 06 46 80 25 71
- Fax : néant
- Mobile phone : néant

Mme MIGNOT
Beyssin
19120 Puy-d'Arnac (Corrèze)

Solleliet Jean Philippe
Le Theil 19380 Saint Sylvain
19380 Saint-Sylvain (Corrèze)
The space country welcomes you for an unusual getaway in the heart of nature. Overlooking the Valley, the rustic tent will offer you protection and comfort.
Double bed, bathroom, summer kitchen and ...

Deyzac Laurent
La Maleyrie 19270 Sadroc
19270 Sadroc (Corrèze)

Register your touristic spot in Corrèze it's free (in French)